A warm welcome ...
Cozy, individual and comfortable - these are the attributes of our apartment. Located at the sunny side in the district Eckartau you have also a private balcony for undisturbed sun-bathing.
In our garden with children´s playground, the little ones can run and jump to their heart´s content while the parents can relax on the roof terrace.
Make your bed and lie in it ...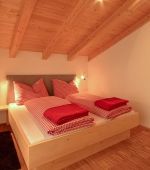 Therefore, we acted also in the selection of building materials carefully.
Solid wood ensures a pleasant room climate and we guarantee you, you´ll sleep like a log!
Vacation starts right now ...
Quiet, sunny located, only 5 minutes by car to the center of Mayrhofen
Top equipped apartment with private balcony and free parking
Spacious garden with children´s play ground and a furnished roof terrace